Par Mwikali Lati

On a toujours dit aux femmes africaines " défriservos cheveux, ainsi ils seront plus faciles de s'en occuper." Kurlykichana.com, un blog local traitant des cheveux naturels, travaille à changer cette perception en faisant passer l'idée que les cheveux naturels africains sont en effet gérables sans que l'on doive nécessairement les traiter avec des produits chimiques.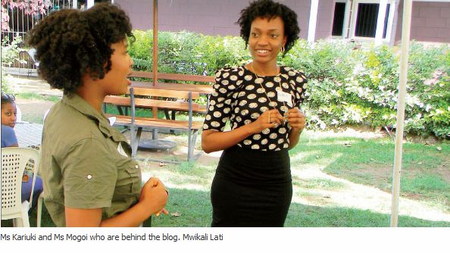 La campagne pro-cheveux naturels a débuté il y a environ cinq ans aux États-Unis. Les femmes afro-américaines converties ont cessé de défriser leurs cheveux, de faire des tissages et d'y mettre des rallonges.
Le mouvement est considéré comme libérateur des idéaux eurocentriques de la beauté - comme le fait de garder les cheveux longs, raides - qui causent des dommages et leur perte à long terme. Alimentée par les blogs, et maintenant par les médias sociaux, les femmes de descendance africaine partagent leurs réussites, leurs frustrations et les conseils sur la façon de traiter les cheveux sans utiliser de produits chimiques pour les relaxer.
Plus populaires
Des célébrités Africaine-américaines comme la musicienne Jill Scott ont également aidé à renforcer la popularité du mouvement. Le blog, kurlykichana.com - The Natural Girl's Guide to Beauty (Guide de Beauté pour la Femme Naturelle) a publié son premier post en janvier de l'année dernière. Nyachomba Kariuki et Mary Mogoi sont les deux jeunes femmes derrière ce blog.
"Il offre des conseils sur la façon de gérer et de coiffer nos cheveux naturels", explique Nyachomba. Les deux disent que les femmes qui désirent des cheveux naturels ont plus d'options de style de coiffure que les célèbres dreadlocks. Elles sont amies depuis longtemps et n'ont jamais défrisé leurs cheveux comme la plupart des femmes kenyanes le font, disent-elles. Alors qu'elles se battaientpour gérer leurs cheveux, elles ont acquis des connaissances et de la perspicacité qui ont profité aux membres de leurs familles de même qu'à leurs amies.
"Je suis passionnée par les cheveux naturels", explique Mary. Un jour, elle a travaillé sur les cheveux d'une amie très longtemps après minuit et est tout de même aller travailler le matin. "J'étais très fatiguée, mais j'ai aimé faire ses cheveux", dit-elle.
Avec les demandes de leurs conseils et de leurs compétences qui augmentaient, les deux ont décidé de créer un forum où les femmes peuvent poser des questions et donner des conseils sur la façon de s'y prendre avec les cheveux naturels. D'après Nyachomba, le blog est devenu plus populaire parce qu'il a été construit avec l'idée de ne pas imposer des produits ou des idées, mais plutôt de faire des recommandations.
Elles ont pigé dans les dernières tendances de cheveux naturels, les ont essayées sur elles-mêmes avant de les recommander à d'autres via leur blog. Avis de prudence tout de même,les cheveux africains ne sont pas uniformes dans leur texture, et il fautdonc connaitre son type de cheveux pour décider quoi en faire. Il ne suffira pas de comparer son type de cheveux avec celui d'une autre. Il y a cependant des trucs à faire et à ne pas faire communs dans le traitement du cheveu naturel. Il faut toujours hydrater pour prévenir la sécheresse, ce qui conduit aux cassures. De plus, utilisez les shampoings sans soufre, car ils n'enlèvent pas l'huile naturelle.
"Une des raisons pour lesquelles nous avons commencé ce blog est que nous voulions prouver que les cheveux naturels africains peuvent pousser jusqu'à la taille", explique Mary. Le 28 mai dernier, kurlykichana.com a organisé sa première réunion où les femmes se sont rassemblées pour partager des conseils sur leurs cheveux. La prochaine rencontre est prévue pour la première semaine du mois d'août.
"Les problématiques les plus importantes sur lesquelles on a discutées à la réunion portaient surles perceptions que les gens ont des cheveux naturels et les frustrations qu'on rencontre en les coiffant", explique Mary.
La génération Y, les personnes âgés de moins de 32 ans, sont au centre de ce mouvement. À l a place, beaucoup coupent leurs cheveux"défrisés" et cultivent les Afros et d'autres styles de cheveux africains. Cela ne passe pas bien avec leurs supérieurs, en grand nombre de la génération X - les personnes nées entre 1963 et 1979.Malheureusement, les écoles de coiffure locales n'ont pas de programme sur cheveux naturels, sauf des dreadlocks.
Malheureusement, les écoles de coiffure locales n'offrent pas de programme sur les cheveux naturels, excepté les dreadlocks. Ce qui signifie que la majorité des salons n'ont pas de personnel formé pour traiter les cheveux naturels, et les rares qui le font sont trop dispendieux.
Par conséquent, les femmes avec des cheveux naturels doivent apprendre à en prendre soin elles-mêmes. Et comme il existe peu de produits pour cheveux naturels dans les magasins locaux, de cosmétiques, elles doivent lire attentivement les étiquettes pour éviter d'acheter des articles contenants des produits chimiques agressifs comme ceux qui contiennent du soufre - ou les fabriquer elles-mêmes.
"Nous voulons mettre fin au mythe selon lequel les cheveux défrisés sont plus facile à entretenir que les cheveux naturels", indique Mary.
Les deux jeunes femmes affirment ne pas être opposées à celles qui veulent défriser leurs cheveux.


Traduit de l'Anglais par Guy Everard Mbarga http://guyzoducamer.afrikblog.com


http://www.businessdailyafrica.com/Natural+hair+beauty+campaign+in+Kenya+gathers+momentum/-/539444/1192096/-/view/printVersion/-/3m5d3m/-/index.html