Le véloce ailier surnommé 'Hijo del viento' (Fils du vent), n'aura pas seulement des supporters honduriens pour lui souhaiter de vivre la gloire au Brésil.
Il y a fort à parier que quand le Honduras descendra sur la pelouse contre la France pour leur premier match de Coupe du Monde 2014, la totalité de leur petit pays d'Amérique centrale sera derrière eux.
Cependant, Marvin Chávez et le reste de l'équipe Catracho porteront probablement égalmeent les espoirs de centaines de milliers de personnes au-delà des frontières du pays pour lesquelles cette équipe représentera une expression dynamique de leur culture peu connue.
Chávez, un ailier rapide évoluant au Chivas USA en Major League Soccer, est un membre du groupe ethnique garifuna, comme d'autres membres clés de l'équipe du Honduras comme les frères Palacios, Wilson et Jerry, et Óscar García Boniek, l'attaquant de Dynamo de Houston.
"Si je ne me trompe pas, nous sommes neuf - presque la majorité'', dit-il, dans une exagération pardonnable. Compte tenu que moins de 2% de la population hondurienne d'un total d'environ 8 millions sont Garifuna, neuf des 23 ce n'est pas mal du tout.
Les Garifunas vivent le long de la côte caraïbéenne d'Amérique centrale, du Belize au nord, en passant par le Guatemala et le Honduras, jusque tout en bas au Nicaragua. D'importantes communautés Garifuna ont également vu le jour plus récemment dans les villes américaines, dont New York et Los Angeles.
L'identité garifuna de Chávez a été exposée à Kingston, en Jamaïque, au moins de novembre dernier, lorsque le Honduras a confirmé sa qualification pour Brésil 2014 avec un match nul 2-2. Chávez, qui était parmi les remplaçants a attiré l'attention avec une coupe de cheveux sur laquelle on pouvai lire les mots Seremei Bungiu - "Merci à Dieu" en langue garifuna - taillés sur le côté.
''Je suis fier, plus que fier de ma culture," dit-il. ''Notre culture est vraiment culture très spéciale, une histoire spéciale. C'est quelque chose qui a été reconnu internationalement ".
Les ancêtres de la Garifuna étaient un mélange d'esclaves africains naufragés et fugitifs et d'habitants amérindiens natifs de l'île caribéenne de Saint-Vincent - où les étrangers les connaissaient sous le nom de Caraïbes noirs. En 1797, après des décennies de résistance aux colonisateurs britanniques, un peu plus de 2.000 survivants d'une guerre génocidaire furent déportés à 1,700 miles de distance au Honduras. Depuis plus de 200 ans, ils ont préservé leur langue et une culture unique qui a été saluée par l'Unesco et a récemment atteint un public mondial grâce à des musiciens comme Aurelio Martínez et le défunt Andy Palacio.
Chávez est catégorique quant à la nécessité de garder en vie une langue qui descend directement de l'arawak parlé dans les Caraïbes à l'époque de Christophe Colomb.
''C'est une belle langue et les parents doivent continuer à l'enseigner à nos enfants pour qu'ils n'oublient jamais le dialecte Garifuna," dit-il.
Il ne sait cependant pas comment expliquer pourquoi les Garifuna sont de si bons joueurs. "Je ne sais pas pourquoi nous sommes bons au football" dit-il en haussant les épaules. ''C'est un don de Dieu."
Le Honduras a participé à deux reprises à Coupe du monde mais n'ont jamais encore enregistré une victoire. Même de simplement inscrire un but serait une amélioration par rapport à leur prestation d'il y a quatre ans en Afrique du Sud. Chávez est cependant clair en ce qui concerne les ambitions de l'équipe au Brésil:
''Nous sommes dans un groupe difficile. On sait tout sur ce dont la France est capable. L'Equateur a de bons joueurs. Nous sommes familiers avec la Suisse. Mais nous croyons en nous-mêmes. Nous sommes là pour marquer l'histoire.''
Il rejette l'idée selon laquelle de rencontrer les Suisses, avec lesquels ils ont fait match nul 0-0 lors de Cla oupe du Monde 2010, dans la torride Manaus à leur troisième match pourrait être un avantage. "Je ne sais pas. Nous devons nous concentrer sur le premier match. C'est le match qui va donner le ton et fixer l'ampleur de la tâche qui nous attend".
Ce qui fait défaut à Chávez en taille - il mesure 1,65 mèetre - il fait plus que le compenser en vitesse. Son surnom, acquis au Honduras, où il a représenté le club de sa ville natale de Victoria à La Ceiba et Marathon dans la capitale commerciale, San Pedro Sula, est Hijo del Viento - Fils du Vent.

Au cours des cinq dernières années, sa rapidité a été sollicité par divers clubs aux États-Unis, de FC Dallas aux San Jose Earthquakes en passant par les Colorado Rapids. Son dernier transfert au Chivas USA en Californie, qui a coïncidé avec sa sélection pour l'équipe de la Coupe du monde, a été marqué pour ses débuts par une rencontre au cours de laquele il a inscris deux buts contre son ancien club - démontrant ainsi son potentiel de joker. Il a cependant été titulaire lors du dernier match amical du Honduras contre l'Angleterre à Miami, et a été très proche de trouver la faille sur un coup franc botté juste au dessus de la barre.
La Coupe du Monde est, bien sûr, la plus grande vitrine du football, comme l'arrière gauche Emilio Izaguirre l'a expérimenté lorsqu'il a été transféré pour 600,000 Livres Sterlings à Celtic il y a quatre ans. Chavez croit que certains de ses coéquipiers internationaux pourraient le rejoindre aux États-Unis.
''Je pense qu'un championnat comme la MLS est toujours à la recherche de bons joueurs, qu'ils soient du Honduras ou d'autres pays. Chaque année, c'est demieux en mieux. J'ai de la chance. Je joue dans un championnat important. La vie m'a bien traité.''
Chavez, 30 ans, n'a pas été retenu dans l'équipe Hondurienne il ya quatre ans et a surtout été sur le banc durant les éliminatoires. Mais il est déterminé à saisir sa chance au Brésil et il est sûr que la présence d'une telle base de soutien non-hondurienne passionnée ne fera que stimuler l'équipe pour qu'elle aille plus loin.
"Le fait qu'il y ait autant de joueurs garifuna dans le groupe signifie que les Garifuna vont soutenir l'ensemble de l'équipe," dit-il. "Et cela nous fera essayer plus fort de bien faire et de travailler dur pour les rendre heureux."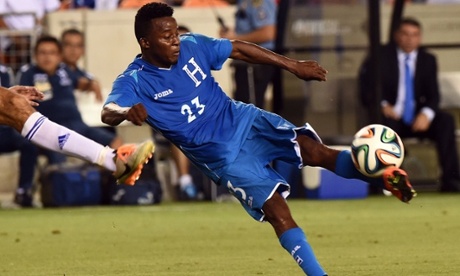 Chávez frappe la balle lors de la rencontre amicale Honduras-Israel à Houston. Photo: Jewel Samad/AFP/Getty Images
Carlos Gamboa, un leader de la communauté garifuna qui réside dans le New Jersey, est convaincu que les Garifunas des États-Unis se réuniront pour regarder les matchs de la Coupe du Monde du Honduras: "Absolument. Je pense que nous le ferons tous, en plus d'être de nationalités différentes - comme le Belize, le Nicaragua, le Guatemala, et aussi des États-Unis - nous allons tout nous rassembler derrière eux ".
Pour Gamboa, dont le propre oncle, Santín Gamboa, était fut un international Guatémaltèque, le soutien à l'équipe du Honduras est un exemple de la manière dont l'identité garifuna transcende les frontières nationales.
"Et," ajoute-t-il : ''Je pense que cela en dit long à quel point les jeunes hommes Garifuna sont de grands joueurs de football."
Chris Taylor est l'auteur de The Black Carib Wars: Freedom, Survival, and the Making of the Garifuna.
Traduit de l'Anglais par Guy Everard Mbarga http://guyzoducamer.afrikblog.com/
http://www.theguardian.com/football/2014/jun/10/world-cup-marvin-chavez-honduras-garifuna