Le Colloque international intitulé ''The meaning of blackness'' (Le sens de la Négritude) s'est tenu du 3 au 7 Février à l'Université du Costa Rica (UCR) en présence de visiteurs venus du Nigeria, du Sénégal, de l'Algérie, du Maroc, de Djibouti, de la Jamaïque, de Porto Rico, de la Barbade, du Nicaragua, d'El Salvador, du Honduras, dee Belize, des États-Unis, du Canada, du Brésil et du Costa Rica.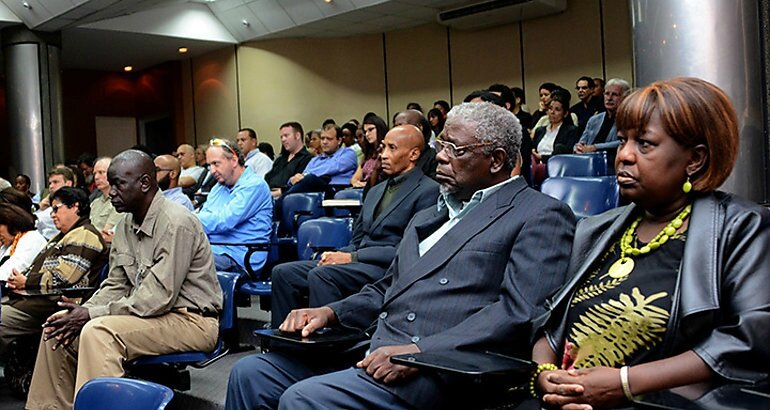 Cette activité a rassemblé plus de 50 chercheuses et chercheurs des pays cités plus haut venus examiner, à partir de différents contextes historiques, politiques et géographiques, les significations multiples, les images et les représentations de la négritude à partir de variantes thématiques telles que la perception de la littérature, dans l'imagination populaire, dans le genre, pendant l'esclavage, dans le monde atlantique, en Afrique, dans la musique populaire, dans la construction de la masculinité et dans la rhétorique de la violence.
La Chaire des Études sur l'Afrique et les les Caraïbes qui fait partie du projet international des chaires internationales impulsées par l'UCR depuis 2013 - et dont fait également partie la Chaire d'études coréennes et Asie de l'Est, et la chaire Wilhelm et Alexander von Humboldt en sciences humaines et sociales - a été officiellement présenté en marge du Symposium.
La Dre. Rina Cáceres Gómez, une spécialiste des thématiques afro-caribéennes, actuelle coordinatrice de la Chaire et principale promotrice du colloque a indiqué que longtemps, le discours «l'être blanc» a rendu invisible le reste des groupes culturels qui composent la société, en transformant les Noirs et les indiens en «les autres» et en «étranger». Elle a de plus expliqué que ces dernières année,s les disciplines comme la sociologie, l'historiographie et la littérature par exemple ont avancé dans la clarification du sens du blanchiment et du métissage, et de l'impact idéologique dans les discours sur l'identité de plusieurs nations.
"À présent, le temps est venu de se poser la question de l'Afrodescendant comme sujet social: quand est-ce qu'une personne est ''noir'' et quand est-ce qu'elle ne l'est pas? De quelles manières les perceptions de la 'race' ont changé avec le temps? Comment les histoires des personnes d'ascendance africaine se différencient-elles et de quelles mani`res leurs trajectoires se ressemblent dans différentes parties du monde? Quelle a été la place des noirs dans la constructions des Nations et des identités officielles en Amérique Hispanique et ailleurs dans le monde ? Les différentes migrations africaines et afrodescendantes ont-elles des agendas communs et distincts ";? Ces questionnements de Rina Caceres ont servi de point de départ pour la réflexion et le dialogue lors de l'activité.
Trois conférences magistrales ont été données aux cours du symposium par de célèbres invités comme Paul E. Lovejoy, de l'Université York qui a présenté An Africanist Perspective on the Atlantic World (Une Perspective Africaniste sur le Monde Atlantique) et Hilary Beckles de l'University of the West Indies à la Barbade a échangé autour de Historicizing the Conceptually Messy and Political Fragmented World of Caribbean Blackness (Historicisation du Monde de la Négritude Caribéenne Conceptuellement Confuse et Politiquement Fragmentée). Enfin la troisième conférence présentée par Toyin Falola, Professeur à l'Université du Texas portait sur Encounters and Otherness: Africa and the Meaning of Blackness ( Rencontres et altérité: l'Afrique et le sens de la négritude).
56 autres présentations, qui seront publiées sous formes d'articles dont la sortie est prévue en fin d'année étaient prévues dans le programme varié. La rencontre a également été l'occasion de présenté le livre de Lara Putnam, Género, poder y migración en el Caribe Costarricense 1870- 1960 ( Genre, pouvoir et Migration dans la Caraibe Costaricienne 1870 - 1960), traduit par INAMU (Institut National de la Femme).
Dans le but de lier la recherche à la société, les personnes présentes au colloque se sont également déplacées à Limón où deux conférences supplémentaires ont été données et ils ont pu dialoguer avec les leaders communautaires.


Ces négociations ont été menées en coordination avec le siège des Caraïbes et de l'Association pour l'Amélioration Universelle des Noirs (Asociación para el Mejoramiento Universal del Negro - UNIA pour son signe en anglais)au Liberty Hall également connu comme le Black Star Line, un point de référence important dans l'histoire des Caribéenne du Costa Rica.
''À un certain moment dans l'histoire,les connexions naturelles entre les îles et le continent (Caraïbes) ont été rompues par les discours identitaires officels des États. Le grand défi consiste à les reconstruire par des passerelles d'échange entre les différentes régions ", a indiqué Caceres pour conclure l'activité.
Dans ce sens, elle a indiqué que avec ce symposium et à l'occasion de la déclaration de la Décennie Internationale des Afrodescendants (2015-2024) par l'ONU en tant qu' espace de réflexion et d'action autour du thème ''Reconnaissance, justice et développement", l'UCR a contribué au débat avec une première la réflexion sur les populations afrodescendantes, non pas en tant qu'objet passif d'observation, mais en tant que sujet social, actifs et créateurs, avec leur propre histoire, leurs contributions et leurs défis.
La Chaire entrera dès à présent dans une seconde phaseavec des cours d'été de mise à jour et la publication avec le soutien de l'Unesco, d'autres textes en espagnol sur l'Afrique et les Caraïbes.
Traduit de l'Espagnol par Guy Everard Mbarga http://guyzoducamer.afrikblog.com
http://www.ucr.ac.cr/noticias/2014/02/18/inauguran-catedra-sobre-africa-y-el-caribe.html