Par: Jerome S. Handler and Kenneth M. Bilby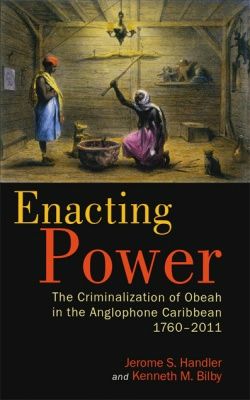 Plus de deux siècles et demi après qu'il ait été interdit par la loi en Jamaique en 1760, l'obeah demeure illégal dans la plupart des territoires des Anciennes Ines Occidentales (Antilles )Britanniques. Cependant, les avis divergent largement sur la signification et la nature essentielle de ce phénomène spirituel Afrocaribéen controversé . Alors que de nombreux Caribéens contemporains ont une opinion négative sur l'obeah, le considérant comme de la sorcellerie, d'autres soulignent son usage répandu pour la guérison, se protéger des méchancetés et pour trouver des solutions à une large gamme de prolèmes quotidiens – des points de vue positifs qui étaient communs parmi les Caribéens des premières générations mis en esclavage.
Malgré l'attention du milieu universitaire reçue par l'Obeah, relativement peu de choses ont été écrites sur les nombreuses loisulguées contre lui sur différents territoires et à des périodes différentes. En proposant une perspective sur l'Obeah qui défie les conceptions conventionnelles de cet aspect largement incompris de la société et de la culture Caribéennes, le coeur de ce livre, est une analyse détaillée des lois anti-Obeah et de leurs implications socio-politiques dans dix-sept juridictions des Caraibes anglophones en partant de la période de l'esclavage jusqu'à nos jours.
En plus de retracer chronologiquement dans chaqqe territoire le développement de ces lois et leurs principales provisions, le livre examine également la manière dont les lois anti-Obeah ont contribué à créer et à perpétuer des distortions culturelles qui résonnent jusqu'à présent. Les législations anti-obeah, particulièrement après la fin de l'esclavage au 19ème siècle, ont joué un rôle central dans la création des incompréhensions du public sur le sens et le rôle de l'Obeah chez les masses Caribéennes, et a mené à la stigmatisation et à la dévaloisation chez les générations suivantes de ces croyances et des pratiques originaires d'Afrique.
Jerome S. Handler est Professeur Émérite d'Anthropologie et d'Études Noires Amricaines à la Southern Illinois University, Carbondale, et actuellent chercheur principal à la Virginia Foundation for the Humanités, Charlottesville, Virginie. Il est anthropologue historique avec une expérience de nombreuses années dans les Caraibes anglophone, particulièrement à la Barbade. Parmi ses publications, on retrouve The Unappropriated People: Freedmen in the Slave Society of Barbados et Plantation Slavery in Barbados: An Archaeological and Historical Investigation (écrit avec Frederick W. Lange).
Kenneth M. Bilby est assistant de recherche au Département d'Anthropologie à la Smithsonian Institution de Washington DC. C'est un anthropologue ayant une expérience approfondies en ethnographie de même que dans la recherche historique dans différents endroits de la Caraibe, dont la Jamaique, la Guyane Françcaise et le Surinam. Il a été curateur de la Smithsonian Institution à Washington, DC, a enseigné au Bard College, et a été Directeur de Recherche au Center for Black Music Research du Columbia College à Chicago.Il est l'auteur de True-Born Maroons.
Pour des informations supplémentaires, visiter http://uwipress.com/content/enacting-power#.UUHbwD2tfmA.email
Traduit de l'Anglais par Guy Everard Mbarga http://guyzoducamer.afrikblog.com