PARAMARIBO– La famille d'Anton de Kom, l'un des plus grands opposant surinamais à l'inégalité raciale et au colonialisme souhaite que le gouvernement néerlandais rétablisse sa réputation. Son petit-fils Marcel de Kom en a fait l'annonce jeudi soir dernier, après la projection publique d'un film documentaire "Peace, Memories of Anton de Kom».

De Kom est né à Paramaribo en 1898. Jeune homme diplômé de comptabilité, il a d'abord quitté son pays pour Haïti, où il a travaillé pour la Société Commerciale hollandaiseTransatlantique , après quoi il a déménagé aux Pays-Bas en 1921. Là, il s'est porté volontaire pour la cavalerie néerlandaise et a rencontré son épouse à La Haye. Durant son séjour aux Pays-Bas, il a été actif dans de nombreuses organisations de gauche, parmi lesquelles les organisations d'étudiants indonésiens nationalistes et le Liens richten .
Il est retourné au Surinam en janvier 1933, où le gouvernement colonial traqua immédiatement chacun de ses pas. En Février, il fut arrêté pour avoir attiser des sentiments anti-colonialistes.
Deux personnes moururent et 30 furent blessées le 7 février 1933 lorsque la police ouvrit le feu sur une immense foule qui s'était réunie sur le Oranjeplein (aujourd'hui Onafhankelijkheidsplein) pour demander sa libération. De Kom fut chassé de son pays en Mai de la même année pour avoir fomenté "des actions contre l'État ". Il se réinstalla à la Haye où il écrivit le livre "We, the Slaves of Suriname"(Nous les esclaves du Surinam). Lorsque la Deuxième Guerre Mondiale éclata, et que les Pays-Bas furent occupés, il rejoignit la résistance.
Il fut arrêté en août 1944 et envoyé en Allemagne le mois suivant où il mourut de tuberculose dans un camp de concentration le 24 avril 1945. On l'enterra dans une fosse commune, mais en 1960, ses restes furent ramenés aux Pays-Bas.
De Kom a reçu de nombreux hommages posthumes; Le Surinam a renommé son université Anton de Kom University of Suriname et a donné son nom à la rue sur laquelle il est né ; Anton de Kom street. Au Pays-Bas, il a été incsris sur la liste "De Grootste Nederlander" (LE PLUS GRAND NÉERLANDAIS) à la 102ème position sur 202 personnes. À Amsterdam Zuidoost, un square porte son nom, le Kom plein. Il présente une suculpture de De Kom comme monument en l'honneur de sa vie et de ses travaux.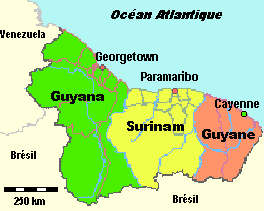 Il n'a jamais été libéré des charges portées contre lui pour avoir fomenté des actions contre l'État. Selon son petits-fils, le temps de régler ce tort est maintenant arrivé.
Le documentaire sur la vie d'Anton de Kom a été produit par Ida Does. Il a été couronné du Meilleur Court Métrage au festival du film de Trinidad & Tobago plus tôt cette année. Dans le film, les enfants de De Kom, Ad, Cees et Judith (son quatrième est décédé) partagent leurs souvenirs de leur père; le documentaire présente également du matériel de guerre historique.
"Ce film rend hommage à ce grand héros Surnamien. Anton de Kom appartient à l'histoire du Surinam et à travers la tragédie de cson histoire, cela est devenu un film très humain, " indique Does.
Traduit de l'Anglais par Guy Everard Mbarga http://guyzoducamer.afrikblog.com/
http://www.devsur.com/anton-de-kom-family-wants-heros-name-cleared/2012/10/22/