Une fois n'est pas coutume pour le blog des Noirs d'Amérique Latine, j'ai eu le grand plaisir d'échanger par mail avec Sanza, une jeune femme conolaise vivant en Belgique . Elle a accepté de partager ses impressions et ses remarques après un séjour privé et solitaire sur l'Île de Curaçao, situé dans les Antilles non loin du Venezuela, et qui abrite une très forte population de descendants d'africains qui y furent déportés à des fins d'esclavage.
La Statue Tula de l'émancipation de l'esclavage à Willemstad
L'un des objectifs de cet espace étant de briser les murs des solitudes afrodescendantes et africaines, il nous a semblé, à Sanza et à moi, opportun de saisir cette occasion pour encourager d'autres africains à faire ce pas vers leurs frères de la Diaspora liée à la déportation esclavagiste qui a décimé notre continent il y a quelques siècles. Sanza nous explique ici ses motivations, ses attentes avant le voyage, ses découvertes en lien avec la diaspora africaine de cette Île où règne le tambú et dans laquelle elle s'est sentie à la maison, du fait entre autre des survivances qui permettent la continuité de la culturelle africaine.

En attendant d'autres témoignages que je souhaite nombreux sur des expériences de ce genre, je vous souhaite une bonne lecture de cette aventure très enrichissante.

Dans quelle ville et dans quel pays as-tu été en vacances et qu'est ce qui t'a motivé à choisir cette destination?

Je suis allée à Willemstad, la capitale de Curaçao. Je voulais visiter un pays des Caraïbes ou d'Amérique du Sud avec une forte population noire. Mais comme je voyageais seule, il me fallait une destination à la fois sécurisante, pas trop chère et riche au niveau culturel. Par élimination, j'ai choisi Curaçao dont j'avais très peu entendu parler.

Quel a été ton itinéraire de départ et de retour en avion, les dates de ton voyage et quelle compagnie as tu emprunté?

C'était un vol direct KLM que j'ai pris à Schipol (Amsterdam) vers Hato. Comme le départ était très tôt, j'ai dû venir en train de Belgique la veille. J'ai dormi dans un auberge de jeunesse exclusivement féminine et tenue par une soeur du Suriname: Hostelle (dans le quartier noir de Bijlmer). Pour le retour : vol direct de Hato à Schipol et puis le train vers la Belgique. Je suis
partie du 16 au 24 août et arrivée le 25 août au matin en Belgique.


Dans quel Hôtel étais-tu logée et quels services étaient étaient compris ?

J'ai été à l'Academy Hotel à Punda (Un quartier de Wilemstad). Le petit déjeuner était inclus dans le prix. Août est un mois de basse saison là-bas donc j'ai eu un bon prix. C'est pas du grand
luxe, mais c'est correct pour les petits budgets.

Academy Hotel - Willestad

Quelles étaient tes attentes avant d'effectuer ton voyage?

De la détente et du soleil et en même temps une rencontre avec la diaspora noire.
Quelles ont été tes premières impressions en arrivant la première journée dans le pays, la ville?

La chaleur exceptionnelle du premier jour (lol)! Mais aussi l'impression d'être chez moi car je nous voyais en majorité partout!

Quelles activités as-tu réalisé sur place?

Une plage différente chaque matin, visite de la ville, visite de musées. Le Musée Tula* (héros antiesclavagiste) tenu par Jeanne Henriquez et le jardin de plantes médicinales de Dinah Veeris m'ont le plus marqué. À voir absolument. Rencontre humaine et culturelle formidable. Ces femmes ont toute mon admiration pour leur savoir et leur lutte pour la conservation de l'héritage africain.

Dinah Veeris prepare a basket with teas and plants in her garden Den Paradera, which means ''a place where people feel at home'', in Willemstad at Curacao Island June 18, 2008.
Credit: Reuters/Jorge Silva
As-tu ressenti une certaine présence de l'Afrique plus ou moins évidente durant ton séjour en voyant les gens, les façons de faire, en écoutant la musique, dans la nourriture, les vêtements etc?


Au moins 90% de la population est noire. Il y a également une présence hollandaise et juive depuis l'esclavage, ainsi que libanaise et des pays sud-américains et caribéens avoisinants. Il y a tout de même une ambiance très coloniale du moins à Willemstad.Tu sens et tu vois que les choses sont mises en place pour le bon plaisir des Hollandais (on les appelle les "makamba" ...faudrait que je m'informe sur l'étymologie). Certaines plages sont payantes et tu dois même payer les sièges. Je n'y ai été qu'à l'une d'entre elle, le Mambo Beach, où j'ai nagé avant de découvrir les autres endroits gratuits. Je trouve cela hallucinant surtout pour les locaux. De plus il n'y a quasiment pas de diffusion de la culture locale dans les principaux restaurants ou discothèques du centre. Elles sont à présent presque toutes gérées par des blancs, car des taxes qui n'existaient pas ont été imposées. Du coup tu n'entends jamais de musique locale dans le centre, et tu dois chercher pour trouver un resto le soir (le midi ça va encore) qui sert la nourriture locale. Tu entendras plus de musique de Colombie, de la salsa ou afroaméricaine ou de la musique commerciale qu'on passe à la radio quoi.
Des écrits sur le mur parlant du lien entre Curaçao, l'Afrique et Ayiti près de Punda (Photo Senza)

Au niveau de la présentation touristique du pays, pas un mot sur le Musée et la statue de Tula. Pas d'indication dans la rue. Heureusement que la tantine Henriquez m'a montré cette statue, sinon je n'en aurais jamais entendu parler!

Heureusement que la langue, le papiamento, est bien présente à la télé, dans la rue et c'est d'ailleurs également une langue officielle avec le néerlandais. Il y a également quelques vendeuses ghanéennes entre autres sur le marché. Elles vendent des souvenirs, des vêtements et bijoux afros. En fait Curaçao a le même statut qu'un état du Commonwealth vis-à-vis des Pays-Bas. Donc les makamba sont là en territoire conquis. Il y a en plein centre ville un bâtiment sur lequel figure une représentation signifiant que les propriétaires ont fait fortune par l'esclavage.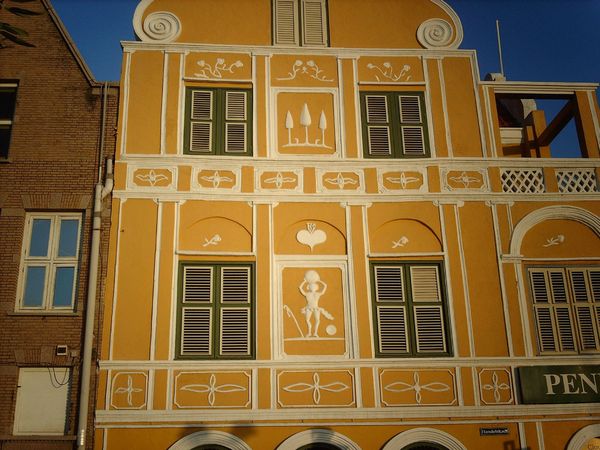 L'immeuble Penha building à Punda avec le symbole signifiant que cette famille a fait fortune grâce à l'esclavage (Photo -Sanza)
Comment as-tu trouvé les gens durant ton séjour?

Généralement très accueillants, et enthousiastes quand je leur disais que je suis du Congo.

Quelle a été ta plus grande émotion durant ce séjour?

Les plages magnifiques et la nature en général, même si le sol y est très sec, le fait de voir la survivance des afrodescendants malgré l'oppression, toujours bien présente. Ma visite du Musée Tula, tenu par des soeurs était fantastique. Nous avons toutes été prises d'une émotion,( car ces femmes étaient littéralement heureuse de voir que quelqu'un venant de la Terre Mère intéressé par les survivances de la Culture Africaine).. Je crois que nous les Noirs du continent devons plus faire cette démarche. Beaucoup partent du principe que c'est la diaspora qui doit se déplacer vers l'Afrique. Je pense que nous devons également faire cet effort. En ce qui me concerne j'ai la sensation de faire un pèlerinage.

Je l'avais démarré en Nubie, même si nous sommes en terre africaine, notre race subit le joug de la domination sémite. Je peux te dire que les Nubiens sont surpris et heureux de voir leurs frères du continent qui viennent les rencontrer. Nous devons tisser des liens si nous voulons renaître à l'échelle planétaire.

Recommanderais-tu ce voyage à un autre africain ou afrodescendant qui a envie de se plonger dans un environnement d'influence africaine plus ou moins important et pourquoi?

Oui je le recommanderais et moi-même si j'avais eu plus de temps et loué une voiture, j'aurais pu encore apprendre d'avantage sur cette Île qui regorge de secrets historiques et naturels. Partout où j'allais, si je n'ouvrais pas la bouche, on me prenait pour une locale. C'est pas beau d'être en majorité? Donc oui je conseillerais, même si je le rappelle il y a un air colonial qui y flotte.

Qu'est ce que tu n'as pas aimé durant ton séjour?

L'air colonial, la difficulté de trouver différents restos de bouffe traditionnelle, le fait que je sois seule et donc que ma vie nocturne soit limitée. Également le nombre de casinos qui doit à mon avis créer des problèmes financiers dans les ménages.
La langue a t-elle été une barrière durant ton séjour? De quelle manière si oui, et comment t'es tu débrouillée pour communiquer?
Pour la langue, je pouvais parler anglais et parfois compléter avec mes maigres connaissances en Espagnol.

As-tu pu faire des rencontres intéressantes?

Oui au Musée Tula et au jardin dont j'ai parlé. Ce sont vraiment les deux contacts que je veux garder et dont je veux parler. Il y aussi eu le proprio d'un resto Surinamien ((Ruytters cafe ), HEUREUX de voir une fille du continent. (''Il m'a traité comme une princesse'', précise-t-elle dans son récit adressé au blog Afroeuope.blogspot.ca .


* Tula* est un africain mis en esclavage qui mena en 1795 une révolte antiesclavagiste qui secoua l'Île pendant un mois.