Le Comfort food pour beaucoup c'est de la viande et des pommes de terre ou quelque chose qui vous rassure (le goulash est un autre exemple). Cependant, moi je ressens ce feeling en mangeant la nourriture brésilienne.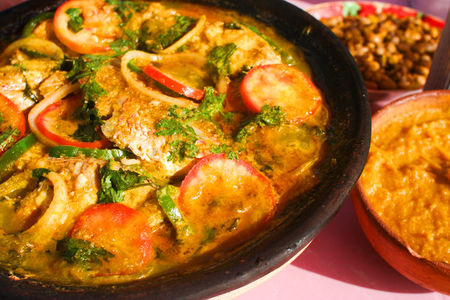 Et quand j'évoque ce pays, je ne parle pas des plats riches en viandes qui ont été rendus célèbres ici aux États-Unis via les multiples churrascarias qui se sont répandues à travers le pays (Je me suis même précipité dans l'un d'eux à Cleveland il y a quelques années de cela), mais de ceux moins connus du nord-est du pays.
Tout comme dans le reste des Amériques, la cuisine brésilienne est grandement influencée par les différents immigrants qui ont fait de ce pays leur chez eux tout au long de l'histoire, comme les Italiens, les Libanais, les Polonais, les Portugais et les Japonais.
De nombreux mets apportés de ces pays ont été réinventés et adaptés et sont désormais identifiés comme étant véritablement Brésiliens, même si les visiteurs reconnaissent leurs origines lorsqu'ils y goutent pendant leur séjour dans le pays.
Lorsque Renata et moi sommes allés à Rio en 2009, on nous servi des crêpes remplis de confiture qu'elle a tout de suite identifié comme étant des nalesniki Polonais, mais je suis certain que si nous posions la question au cuisnier ou à la cuisinière, il ou elle ne le saurait pas.
Les allemands ont apportés les saucisses et le porc Kassel, les italiens leurs pâtes et les Portugais, leur amour pour les fruits de mer - qui ont tous intégrés le melting-pot et sont devenus quelque chose de nouveau.
Mais aucun continent n'a cependant autant influencé la cuisine Brésilienne que les africains de l'Ouest emmenés dans le pays en tant qu'esclaves au milieu du 16ème siècle. Beaucoup de ces esclaves africains travaillaient dans les cuisines de leurs propriétaires et ont peu à peu changé leurs plats portugais en utilisant les produits trouvés sur place.
Les africains ont également introduit l'huile palme, (une version non filtrée que l'on retrouve également dans les mets jamaicains) le lait de cooco etle riz tout en apprenant à utiliser les plantes indigènes comme le manioc et le cacao.
Aujourd'hui, le Brésil est le pays comptant le plus d'Afrodescendants au monde, et leur présence dans la gastronomie du pays peut être ressentie de la manière la plus importante dans la ville de Salvador, dans l'état de Bahia, que certains visiteurs comparent à la Nouvelle Orléans.
Le plat de prédilection de l'état est la est la moqueca (prononcé mou-KE-ka), un ragoût gouteux modérément épicé qui conjugue de multiples saveurs avec l'indispensable dendê (pronounced den-DEH - mot africain pour huile de palme).
Dans le Ceará, on trouve le baião de dois, essentiellement à base de riz et de haricots. Il n'a pas grande différence avec le rice and peas Jamaicain ou l' arroz con frijoles Dominicain, mais il contient sa propre personnalité en utilisant des ingrédients que l'on retrouve facilement dans la région.
Recette de la Moqueca
Ingrédients
2 livres de filets de poissons (tilapia ou autre poisson ferme)
2 grosses tomates, coupées et épépiné (des tomates hachées en boites sont correctes)
2-3 cuillères à soupe d'huile de palme
1 boite de lait de coco
2 gousse d'ail, découpée
1 grosse oignon, tranché
1 poivron vert, tranché et épépiné
2 piments malagueta, coupés(poivrons rouges émiéttés peuvent faire l'affaire. Le piment Jamaicain frais également)
Sel et poivre noir au goût
2-3 cuillères à soupe de coriandre, coupé
Préparation:
Sur un feu moyen, faire fondre l'huile de palme dans une grande casserole, ajouter l'ail et les oignons et les faire sauter pour les attendrir. Ajouter les poivrons et le piment malagueta et faire sauter pendant environ une minute. Ajouter le lait de coco et les tomates et laisser mijoter pendant 5 minutes.
Ajouter le poisson et continuer à faire mijoter jusqu'à la cuisson. Servir immédiatement sur du riz blanc. Ce repas peut-être accompagné d'un chardonnay non fermenté en fût de chêne, de sauvignon blanc ou de pinot grigio.
Youtube: préparation de la Moqueca (Par Shelley of Naturi Beauty)
Ernest Barteldes est un écrivain freelance basé à Staten Island, New York. Vous pouvez le contacter par mail ebarteldes@yahoo.com.
Traduit de l'Anglais par Guy Everard Mbarga http://guyzoducamer.afrikblog.com/
http://www.brazzil.com/component/content/article/243-march-2012/10567-to-me-comfort-food-is-brazilian-food.html