Par Damarys Ocana - Latina.com
Les ironies frustrantes qui vont avec le fait d'être Afro-Latina frappent Yuly Marshall avec une régularité étonnante: Au travail dans un hôpital de Miami, les patients hispaniques de la technicienne en radiologie d'origine cubaine supposent en général qu'elle est Africaine-Américaine, et lui demandent : "Où avez-vous appris à parler l'espagnol comme ça? " ett expriment leur surprise, et même leur scepticisme – à l'idée qu'elle soit vraiment Latina. D'autres fois, ses collègues Latinos dénigrent les Africains-Américains devant elle avec des phrases comme: "Qu'est ce qu'on peut attendre des Noirs?" et puis se retournent vers elle et lui disent, comme pour la complimenter : "Mais tu n'es pas comme ça. Tu es des nôtres. "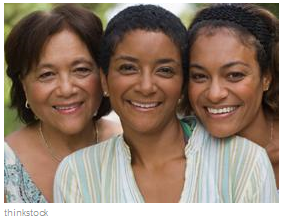 Lorsque Marshall évoque les problèmes raciaux avec des collègues Africains Américains, ils lui disent souvent qu'elle n'a aucune véritable idée de ce que c'est que d'être noir. Pourtant, il y a quelques années, quand Marshall sortait avec un Latino noir de peau plus claire, les parents de l'homme lui ont demandé de rompre à cause de sa peau foncée. "Ils lui ont dit de trouver une fille blanche afin de adelantar la raza ", affirme Marshall, en utilisant une expression qui signifie quelque chose comme «faire avancer la race» en se mariant avec une personne au teint plus clair pour reproduire des enfants plus clairs de peau que soi-même.

"Parfois, je me demande quand est-ce que ça va prendre fin? ", indique Marshall, qui est âgée de 31 ans. "Mais j'aime ma couleur de peau. Dieu m'a créé ainsi, et je suis tout aussi bonne que n'importe qui d'autre. "

Selon les militants et les spécialistes Afro-Latinos, ce sentiment sain de fierté et de conscience de soi est peut-être en hausse chez les jeunes Afro-Latino américains, malgré le type de racisme voilé, l'ignorance et de déni -de la part des Latinos et des non-Latinos aussi - qui peut transformer le quotidien en un défi pour Marshall et pour d'autres.
Une partie de l'explication est peut-être qu'il y a plus que jamais des afroLatinas ayant un profil de carrière de haut niveau que dans le passé -Dont Zoe Saldana, Lauren Vélez, Dania Ramirez, La La Anthony, Arlenis Sosa, Joan Smalls et Soledad O'Brien - et elles parlent haut et fort de leur patrimoine et de leur race. "En tant que Latina, je pense que nous devrions être très fiers de notre patrimoine", a déclaré Zoe Saldana. "On a tendance à rechercher des racines européennes et à rejeter celles autochtones et africaines, et c'est dégoûtant. Être Latino signifie être le mélange d'un tout. Je ne veux pas que mon peuple soit dans la précarité, et qu'il adore ce que nous sommes parce que c'est beau. "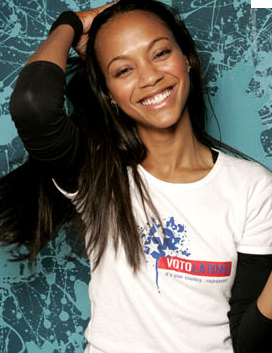 Zoe Saldana
Les AfroLatinas dans leur vie quotidienne se connectent les unes aux autres comme jamais auparavant, grâce à des groupes sociaux et à but non lucratif sur les campus universitaires de même que sur les sites de réseautage social. Sur Facebook, où il existe de nombreux groupes sur l'identité AfroLatina qui se targuent de compter des centaines de membres, même la page d'un documentaire jamais encore diffusé intitulé Afrolatinos: The Untaught Story compte quelques 1240 'j'aime' et attire d'intenses débats.
Et puis il y a des événements comme la conférence de trois jours en Novembre à New York, intitulée AfroLatin@ Now! Strategies for Visibility and Action organisée par un organisme à but non lucratif AfroLatin@ Forum avec El Museo del Barrio, la City University de New York et le prestigieux Schomburg Center for Research in Black Culture. Au moment où l'on mettait sous presse, on tablait sur la présence de plus de 500 personnes.


Joan Smalls
"Les gens s'identifient de plus en plus comme afro-latinos", explique Miriam Jimenez Roman qui a édité The AfroLatin@ Reader: History and Culture in the United States, une collection d'essais écrits par des écrivains afro-latinos ayant récemment remporté l'American Book Award. "Ils sont désormais conscients qu'une telle identité est possible."

Si cela semble étrange que certaines jeunes Latinas ne savent pas que c'est correct d'être noire et Latina, c'est à cause du déluge de messages contradictoires qu'elles reçoivent.

Sur les Africains esclavisés emmenés dans le Nouveau Monde dont on estime le nombre à 11 millions, dès la fin des années 1400 aux années 1860, la plupart furent destinés à l'Amérique Latine et les Caraïbes, avec seulement quelques 645.000 qui se sont retrouvés aux États-Unis. "Alors quand on parle de la négritude, on parle en fait vraiment de l'Amérique Latine", affirme Jiménez.
Pourtant, alors que l'influence musicale et culinaire Africaine sur la culture Latino est souvent célébrée, l'expérience Afro-Latino dans plusieurs pays d'Amérique Latine a souvent été mise sous silence. En République Dominicaine, par exemple, le gouvernement a encouragé à un moment donné les Noirs à utiliser le terme "Indien" au lieu de 'noir' pour se décrire, en partie comme une façon de se distancer de leurs voisins haïtiens. Le Mexique n'a reconnu officiellement son important patrimoine d'ADN Africain que récemment, même si son deuxième président était Afro-Mexicain et qu'à un moment donné, le nombre d'esclaves dépassait celui de leurs maîtres espagnols.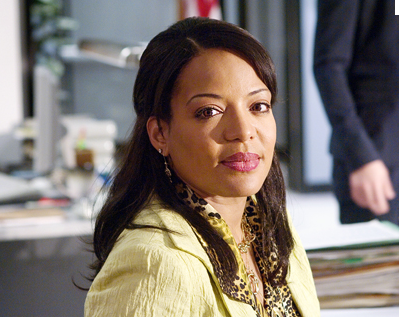 Lauren Velez de la série "Dexter"
De nombreux pays latino-américains ont moins insisté sur la race pour une autre raison, selon Arlene Davila, Ph.D., professeur d'anthropologie de l'Uuniversité de New York "L'identité nationale était supposée éclipser l'identité raciale," dit-elle, soi-disant pour rendre tout le monde égal. On a amené les Latinos noirs à penser que le fait de claironner leur race les rendait moins Cubains, par exemple, même si en réalité, le pouvoir politique et économique appartenait aux citoyens de peau claire.

Les immigrants apportent ce bagage avec eux aux États-Unis, et en acquièrent davantage lorsqu'ils sont exposés aux relations raciales Américaine - qui ont tendance à être en des termes noir et blanc crus, avec peu de place pour de possibles identités Afro-Latinos . "Beaucoup d'enfants grandissent dans des foyers où ils vivent cette vie latino qui est très fondamentalement blanche, car vous avez des parents qui amènent avec eux des préjugés négatifs au sujet des Africains Américains", explique Yvette Modestin, directrice de l'organisation à but non lucratif Encuentro Diaspora Afro basée à Boston. Pour se différencier selon Modestin : "Leurs parents s'accrochent à leur Latinité à tout prix, s'imaginant qu'ils rendent les choses plus faciles pour leurs enfants. Et ce n'est pas le cas. Ils rendent les choses plus difficiles. "

Malgré les Latinas ayant un profil de carrière élevé qui réussissent à Hollywood et dans d'autres industries, ce qui empire les choses c'est que l'on voit rarement des Latinas noires dans des films jouant de Latinas noires (beaucoup d'actrices Noires Latinas jouent des Africaines Américaines à l'écran) et dans les publicités, qui dépeignent généralement les Latinos comme ayant une nuance de peau marron claire. Selon Modestin, cela a pour effet de créer chez les Afro-Latino est la création un "monde très schizophrénique" dans lequel beaucoup ne sont pas compris ou sont rejetés.

Lors des ateliers que Modestin organise pour les Afro-Latinos des collèges et lycées, les enfants sont invités à marcher autour de la salle tandis que Modestin leur pose des questions sur eux, y compris leur composition raciale. "Depuis toutes les années que je fais cela, il n'y a jamais eu un moment où je n'ai pas eu devant moi une jeune afro-latina qui s'arrête de marcher quand on lui demande si elle est de descendance africaine ", explique Modestin. "C'est 'je ne sais pas", même si l'enfant est visiblement de descendance africaine. "
L'inspiration pour le programme provient de la propre expérience de Modestin qui s'ajustait à la vie aux États-Unis alors qu'elle venait d'arriver à la Northeastern University en provenance directe de son pays natal, le Panama. "Je venais d'une famille fortement et fièrement afro-panaméennes et une fois ici, d'autres Latinos m'ont absolument rejetée", dit-elle. "Je me suis dit, "Il faut qu'on en parle . "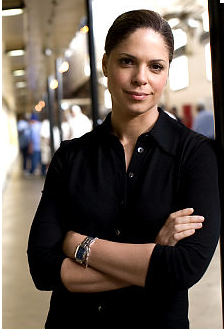 La journaliste Soledad O'Brien de CNN
Elle a commencé à parler dans les universités, puis elle a fondé Encuentro, un lieu où les Afro-Latinos et d'autres de descendance Africaine pouvaient explorer et célébrer leurs origines. Le mois dernier, elle a parlé devant le Congressional Black Caucus des défis que les Afro-Latinos affrontent et des alliances qui peuvent être façonnées entre les Latino et les Africains Américains. Actuellement dans la quarantaine, Modestin porte les cheveux naturels et se pare souvent de vêtements Africains et Afropanaméens – en partie dit-elle, comme une manière de remettre en question les préconceptions des Latinos sur ce qu'est être une Latina.
Elle affirme tout de même "Il ya des jours où c'est plus facile de ne pas dire que je suis panaméenne, car ainsi, je n'ai pas à m'expliquer. Et ces jours-là, ma tête me fait mal, j'ai mal au ventre, parce que dans ces moments je ne me déploie pas telle que je suis dans mon ensemble. "

Marshall n'a jamais vécu un moment où elle ne s'est pas sentie totalement Afro-Latina. Ses parents s'en sont assurés. "Ils m'ont élevé en disant:" La couleur ce n'est que la couleur. Vous êtes ni plus ni moins que quiconque " , dit-elle. "Vous ne regardez pas la couleur, vous regardez la personne telle qu'elle est de l'intérieur." C'est ce que je fais. "Et c'est exactement ce que beaucoup comme elle commencent également à faire".
Traduit de l'anglais par Guy Everard Mbarga http://guyzoducamer.afrikblog.com
http://www.latina.com/lifestyle/our-issues/negra-beautiful-unique-challenges-faced-afro-latinas