Une pluie torrentielle. La perte de la sonorisation. Rien ne pouvait décourager les âmes résistantes réunies sur la promenade de Coney Island à l'occasion de la 22ème édition annuelle de l'Hommage à Nos Ancêtres du Passage du Milieu (Annual Tribute to Our Ancestors of the Middle Passage -Célébré le 11 juin dernier-).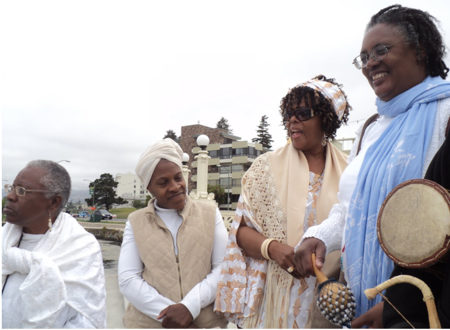 Ce rassemblement a lieu tous les mois de juin à Coney Island, Brooklyn, le site où quelques-uns des tout premiers navires d'esclaves amarrait autrefois. Là, sur la promenade, les participants honorent les dizaines de millions d'Africains qui, après avoir été enlevés de leurs patries, sont morts pendant la traversée de l'Atlantique - le passage du Milieu - leurs corps jetés dans l'océan.

L'hommage a débuté par une cérémonie de libation effectuée par Mdut SeshrAnkh et Mout Nfrt Ka Raet. Puis, il y a eu une invocation au tambour, dirigée par le maître des percussions guyanais Ménès de Griot et sa troupe Shanton, accompagnés du Congo Square Drummers et de nombreux autres joueurs de tambours ancestraux.

L'Hommage aux tambours de cette année s'adressait au Dr Manning Marable, à William Daly, à Nate Dogg et d'autres ancêtres récents, avec un souvenir particulier pour la Dre Mary Umolu, membre fondatrice du People of the Sun Middle Passage Collective, qui parraine cet hommage chaque année en collaboration avec Akeem Productions et le Medgar Evers College Student Government Association.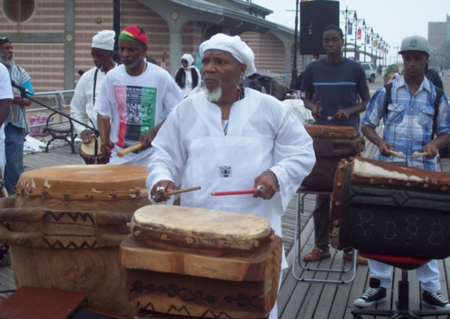 Plus tard, Medgar Evers, président du Collège William Pollard a prononcé les noms de certains des ancêtres qui ont le plus compté dans sa vie car, comme il dit, "je ne peux pas citer les noms des 13 millions et plus selon les estimations, de nos ancêtres qui ont perdu leur vie dans le Passage du Milieu, mais je peux nommer quelques-uns des noms des descendants de ceux qui ont survécu et nous ont offert l'occasion d'être où nous sommes maintenant "
Parmi les noms qu'il a prononcés se trouvait celui de sa mère, Betty Pollard, et son mentor, John Hope Franklin.

Pollard a conclu ses remarques en remerciant particulièrement Tony Akeem, le principal organisateur de l'hommage annuel, et les nombreux autres qui l'assistent.

Comme toujours, la cérémonie d'hommage a présenté des performances enthousiasmantes de chanteurs, percussionnistes, danseurs et artiste de spoken word, dont Grandmaster Kham, Ngomo, Osagyefo, Dupree, le Crown Heights Youth Collective et le Congo Square Drummers and Dancers.

Même si la météo détrempée du jour a humecté les vêtements des personnes présentes, elle n'a rien fait pour les décourager. Tout au moins, elle a produit exactement l'effet contraire, en accroissant l'émotion pour ce à quoi les ancêtres qui ont survécu au Passage du Milieu étaient soumis, sans protection contre le froid, l'humidité et l'extrême chaleur.

Le moment le plus dramatique de la journée s'est peut-être produit juste au moment où la chanteuse, poétesse et percussionniste Jessica a terminé son spoken word profondément significatif intitulé "Can You Love Me?" qui, a-t-elle déclaré, demande: " Peux-tu m'aimer assez pour que se mette ensemble?" A peine avait-elle prononcé ses derniers mots que le ciel s'est ouvert et un torrent d'eau s'est mis à tomber.

Cette pluie de nettoyage venant du ciel, semblait rendre la connexion encore plus forte entre les gens rassemblés là et ceux dans le monde au-delà. Alors que l'hommage se poursuivait, plusieurs personnes étaient emportées par l'enthousiasme. Parmi lesquelles Jacklene qui a dit de son expérience que " C'était une bénédiction du très haut. Nous sommes bénis par les ancêtres, et c'est tellement beau de devoir le partager avec les uns avec les autres, mais on ne peut que le faire dans le droit chemin spirituel. "

Comme le coucher du soleil approchait, Michael Manswell de Something Positive, Shanto et les autres batteurs ancestraux ont conduit les participants jusqu'au bord de l'eau où Ménès de Griot a rendu hommage aux Olodumare, aux Egunguns et aux Orishas. Ce vibrant hommage a pris fin lorsque chaque participant a déposé des fleurs pour les ancêtres dans l'océan Atlantique.

Quand les gens ont fini de rendre hommage aux ancêtres et étaient prêts à partir, ils n'ont pas tourner le dos à l'océan, mais ont continué à lui faire face en dansant à reculons jusqu'à ce qu'ils atteignent la promenade. Comme l'a expliqué Ménès, c'est un symbole qui veut dire aux ancêtres, "Nous n'avons pas oublié votre lutte et nous ne tournerons jamais le dos à la lutte. Nous pardonnerons, mais nous n'oublierons jamais ce qui s'est passé. "


Traduit de l'Anglais par Guy Everard Mbarga http://guyzoducamer.afrikblog.com/

© 2011 Community Group Newspapers
http://www.caribbeanlifenews.com/stories/2011/6/2011_06_13_donna_middle_passage.html