ERNESTO TABORDA HERRERA, EL UNIVERSAL - CARTAGENA DE INDIAS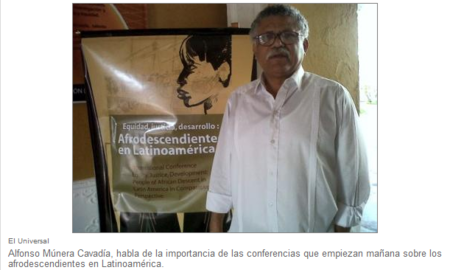 Dès demain lundi et jusqu'au jeudi 24 mars, se tient un cycle de conférences sur l'équité, la justice et le développement des afrodescendants en Amérique Latine. L'événement se tient à l'amphithéâtre Rafael Núñez del Claustro de San Agustín à l'Université de Cartagena.

L'historien Alfonso Munera Cavadias, vice-recteur des Recherches à l'Université de Cartagena et directeur de l'Institut International des Études des Caraïbes est le responsable de l'organisation de ces conférences internationales.

Selon Múnera Cavadias, l'événement coincide "avec le Bicentenaire de l'Indépendance de Cartagena et la déclaration par les Nations Unies de l'Année Internationale des Afrodescendants, qui est organisé par Sephis, l'Institut des Études pour le Développement des Genres de l'Université of the West Indies, Jamaïque (IGDS) et l'Université de Cartagena. "

Pour Munera, un expert sur la thématique des influences afrodescendantes en Amérique Latine, il est très important que cet événement se tienne à Carthagène, puisque cette ville est liée à l'une des meilleures universités des Caraïbes telle que la West Indies par le biais d'activités académiques ou des conférences.

Certaines choses importantes n'ont pas été abordées sur les afrodescendants, et ce sera fait lors de cet événement par des professeurs étrangers qui arrivent ce soir à Cartagena pour exposer leurs thèses pendant les quatre jours que durent l'événement.

Afrodescendants dans le Cône Sud

L'événement rassemblera des experts possédant un doctorat, des spécialisations et ayant effectué des recherches sur la thématique de l'afrodescendance en Amérique, au Brésil, en Bolivie, au Pérou, au Chili, en Jamaïque, au Mexique, au Pays-Bas entre autres

Dans les thématiques seront traitées les communautés afrodescendantes de pays comme l'Argentine, la Bolivie, le Chili et le Mexique.

"Celia L. Cussen, de l'Université du Chili, prononcera la conférence 'L'esclavage et l'histoire du Chili: à la découverte des empreintes de l'esclavage africain dans les frontières de l'Amérique coloniale espagnole', tandis que José Luis Petruccelli, de l'Institut Brésilien de Géographie et de la Statistique (IBGE) de Rio de Janeiro abordera le thème "Brésil: inégalités raciales dans l'éducation et accès à l'université'".

Selon Múnera Cavadía, Il y aura également une conférence très importante sur la présence des communautés afro en Argentine et en Bolivie; ce qui a amené Lea Natalia Geler, de l'Université de Buenos Aires (Argentine), qui exposera sur le thème 'tensions et différends chez les afroporteños et inclusion dans la blanche nation Argentine à la fin du 19ème siècle ' ('Tensiones y disputas entre los afroporteños frente a la inclusión en la blanca nación Argentina a finales del siglo XIX') et Esther Aillon Soria de l' Université Mayor de San Andrés à La Paz (Bolivie), qui abordera le thème 'Une communauté d'origine africaine dans la construction nationale de la Bolivie'( 'Una comunidad de origen africano en la construcción nacional de Bolivia' ).

Toutes les conférences seront présentées à l'auditorium de l'Université de Cartagena, et seront traduits simultanément de l'anglais vers l'espagnol et vice versa.
raduit de l'Espagnol par guy Everard Mbarga http://guyzoducamer.afrikblog.com