Eight Days: A Story of

Haiti


Par Edwidge Danticat
Illustration d'Alix Delinois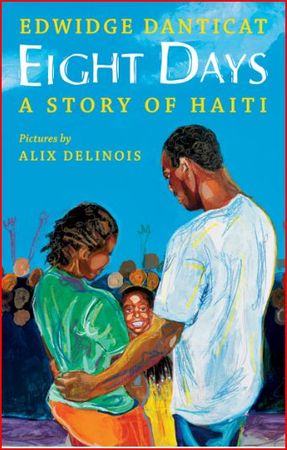 Traduit de l'Anglais par Guy Everard Mbarga http://guyzoducamer.afrikblog.com/
Lorsqu'un tremblement de terre a frappé Haïti, tuant plus de 230.000 personnes, il était presque impossible pour les adultes d'éviter les gros titres tragiques.
Neuf mois plus tard, l'auteure d'origine haïtienne Edwidge Danticat a trouvé un moyen de partager l'histoire du séisme avec les enfants, un public qui en était en grande partie protégé.
Danticat a écrit un livre pour enfants sur Junior, un garçon de 7 ans enterré sous les décombres de sa maison haïtienne pendant le tremblement de terre et sauvé huit jours plus tard.
Elle indique à Linda Wertheimer de NPR qu'elle a commencée à écrire le livre, Eight Days: A Story of Haiti pour essayer d'expliquer l'épreuve à sa fille de 5 ans.


"Lorsque le tremblement de terre s'est tout d'abord produit, ma fille de 5 ans ... n'arrêtait pas de nous demander des nouvelles de sa [grand-mère haïtienne] ", dit Danticat. "À la fin elle a lâché une question du genre : 'Est-ce que Grand-mère est sous sa maison?' "
Danticat indique qu'elle et son mari étaient tellement absorbés et inquiets pour les membres de leur famille en Haïti qu'ils n'avaient pas répondu aux questions de leur fille jusqu'à présent.


"J'ai écrit cette histoire pour essayer de lui expliquer ce qui s'était passé", indique –t-t-elle, "mais aussi pour y trouver une sorte de moment d'espoir pour que ça ne se résume pas - au moins pour un enfant – à la dévastation."


Le livre de Danticat commence par le sauvetage de Junior huit jours après le tremblement de terre, et se poursuit par la description de ce qu'il a fait pendant les huit jours qu'il a passé dans les décombres. Il fait voler un cerf-volant avec son meilleur ami, Oscar, qui était avec lui lorsque le séisme est survenu. Il joue aux billes avec les enfants du quartier. Mais, bien sûr, rien de tout cela ne s'est réellement passé.


"C'est un mélange d'imagination, mais aussi de souvenirs, car l'une des questions que je me posais concernant les enfants [était] ce qui les gardait calmes - parce que j'ai deux petits enfants et ils ne restent pas vraiment calmes très longtemps, " affirme Danticat. "Je me demandais à quelle ressource ils allaient faire appel, et c'est comme ça que j'en suis venue à cette utilisation de l'imagination pour Junior."


Selon Danticat, même si le livre n'est pas destiné aux très jeunes enfants, il peut être thérapeutique pour leurs camarades plus âgés.
"Je l'ai lu à certains enfants en Haïti et ce que j'ai vu après l'avoir lu à différents enfants c'est que la conversation commence, et on s'est mis à parler ouvertement de choses tristes, non seulement comme le tremblement de terre, mais d'autres choses qui attristent les enfants", affirme Danticat.
Elle dit avoir trouvé que beaucoup d'enfants haïtiens peuvent se sentir concernés par l'histoire d'un petit enfant enfoui dans les ténèbres, ne sachant pas s'il sera sauvé.


C'est une histoire triste, et elle devient encore plus sombre le cinquième jour de Junior dans les décombres, quand il s'imagine en train de jouer au foot avec ses amis. Après le match, ils s'asseyent tous pour se reposer, sauf Oscar - le meilleur ami de Junior – qui est fatigué et s'en va se coucher. Il ne se réveillera jamais après cela.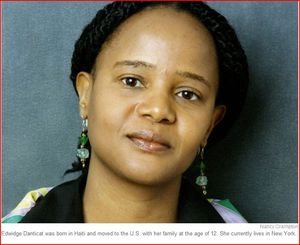 Nancy Crampton
Edwidge Danticat was born in Haiti and moved to the U.S.
with her family at the age of 12. She currently lives in New York.
"Beaucoup d'enfants étaient dans cette situation", affirme Danticat. "Quand je l'ai lu à ce groupe d'enfants en particulier dans l'un des camps, l'une des petites filles a levé la main et a dit: " Allez, dis nous tout de suite ce qui va arriver: Oscar est mort ou pas? "Et c'est drôle, en particulier au milieu d'une tragédie comme celle là, des enfants qui veulent aller droit au but et qui font face à une adulte qui essaie de tourner autour du pot. Mais pour beaucoup de ces enfants - même les enfants haïtiens-américains qui sont en retrait de ce qui s'est passé – la réalité de la perte des êtres chers reste présente et on ne peut pas prétendre que ce n'est pas arrivé. "
Danticat dit que le livre n'est pas basé sur une histoire vraie autant qu'elle est dérivée d'un grand nombre, y compris celle de la cousine de Danticat – perdue dans les gravats avec son fils de 10 ans.


L'auteure affirme pourtant qu'Eight Days est essentiellement une histoire d'espoir. Illustré par les peintures éclatantes et colorées d'Alix Delinois, le livre montre la campagne en dehors de Port-au-Prince dans le style classique de la peinture haïtienne. C'est un portrait d'une Haïti avant le tremblement de terre qui a quasiment disparu aujourd'hui - mais qui survit toujours dans la mémoire haïtienne.
Évoquant l'Haïti perdu, Danticat affirme que "lorsqu'on vit à l'extérieur de l'endroit où on est né, on a tendance à l'idéaliser. Mais ce qu'il y a de super avec la mémoire, ce qui est super avec l'art, c'est que l'on peut réinterpréter et recréer, et avec un peu d'espoir rêver un monde meilleur".