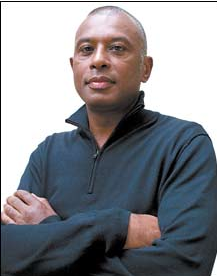 Par Anna Metcalfe
Traduit de l'Anglais par Guy Everard Mbarga
Né dans l'île caribéenne de St Kitts, Caryl Phillips n'avait que quatre mois lorsque sa famille a déménagé en Angleterre. Il a grandi à Leeds dans le Yorkshire, et a étudié l'Anglais à l'Université d'Oxford. Depuis 1985, il a publié 10 romans, dont plusieurs examinent le commerce des esclaves africains. Il était l'un des Meilleurs Jeunes Romancier Britanniques du magazine littéraire Granta en
Quel livre a changé votre vie?
Native Son de Richard Wright. C'est le livre qui m'a donné envie de devenir écrivain.
Quels livres se trouvent actuellement à votre table de chevet?
Jean Rhys' Good Morning, Midnight. Je suis également en train de relire l'extraordinaire Football Against the Enemy de Simon Kuper.
À quel moment avez vous su que vous deviendrez écrivain?
La fin de l'été 1978. C'était plus un espoir qu'une assurance, mais c'était clair dans mon esprit que c'était ce que je voulais faire de ma vie.
Qu'avez-vous fait de plus étrange pendant que vous faisiez de la recherche pour un livre?
Un voyage sur l'Océan Atlantique des Antilles à l'Angleterre sur un bateau banane. Ce furent trois semaines minables et solitaires. Je n'ai jamais été si heureux de voir la terre.
À quel endroit écrivez-vous le mieux ?
Dans une chambre d'hôtel avec un signe "Ne pas déranger " sur la porte, le room service au bout du fil et un joli parc à proximité où je peux me promener pendant qu'ils nettoient ma chambre.
Avec quoi cassez-vous la croûte lorsque tu écris?
Des biscuits au chocolat digestifs et beaucoup de café noir.
Quelles sont vos influences littéraires?
Shusaku Endo, Derek Walcott, Henrik Ibsen, Pico Iyer et CP Cavafy.
Quel est le meilleur conseil qu'un parent vous ait donné?
"Ne laisse jamais personne te dire que tu n'es pas d'ici."
Quel livre vous rend le plus fier en tant qu'auteur?
Tout ce que j'ai écris est le meilleur de ce que je pouvais faire à un moment donné. Dans ce sens, je suis fier de tout ce que j'ai écris. Cependant, aussitôt que la publication est faite ou que la pièce est jouée, je me rends compte que dans une certaine mesure que c'est un échec.
Quel livre auriez vous aimé écrire?
White Egrets de Derek Walcott. Une étonnante collection d'un poète âgé de 80 ans. Si seulement j'en savais autant sur moi-même et sur le monde.
Le dernier roman de Caryl Phillips, 'In the Falling Snow' (Harvill Secker) est sorti sous forme de livre de poche
Copyright The Financial Times Limited 2010. You may share using our article tools. Please don't cut articles from FT.com and redistribute by email or post to the web.
1993.
La même année, son roman Crossing the River était sélectionné pour le Booker Prize et a gagné le James Tait Black Memorial Prize, et en 2004, il a remporté le Commonwealth Writers' Prize avec A Distant Shore. Phillips, qui est âgé de 52 ans, est professeur d'Anglais à l'Université de Yale et vit à New York.