Par: Goulbourne Carolyn-Warren
 
TORONTO (JIS):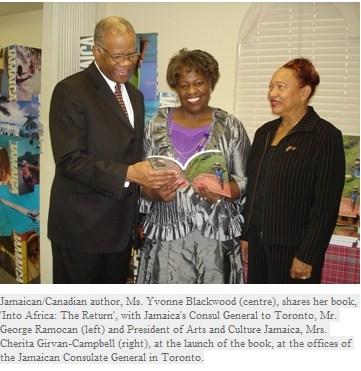 En grandissant à Newport, Manchester dans les années 1950, Yvonne Blackwood avait une fascination pour l'Afrique, grâce à sa grand-mère qui était une excellente conteuse.

"Je pense que j'avais probablement quatre ou cinq ans lorsque ma grand-mère nous a raconté l'histoire de son grand-père qui disait qu'il était« Ashanti » quand il était en colère.

Il avait obtenu cette information de son arrière grand-mère qui était venue directement d'Afrique.

Des années plus tard, j'ai découvert que Ashanti était une tribu au Ghana et une fois que j'ai fait cette découverte, j'ai commencé à développer une obsession pour voir ce à quoi ressemblait à l'Afrique", a indiqué Mme Blackwood à JIS Nouvelles.

Son rêve de visiter l'Afrique avait été mis en veilleuse, alors qu'elle se consacrait aux rigueurs de la vie quotidienne, en devenant mère et épouse et en peaufinant sa carrière de banquière dans la plus grande banque du Canada, la Banque Royale.

En 1997, elle a pu réaliser son rêve et a finalement visité l'Afrique, notamment le Ghana et le Nigeria. Suite à ce voyage, elle a écrit son premier livre de " Into Africa: A Personal Journey" qui a connu du succès.


Cinq ans plus tard, en 2002, elle est retournée en Afrique, cette fois avec deux cousins, et elle vient de publier, " Into Africa: The Return " inspiré de ce voyage.

Mercredi 21 avril derniers, Arts and Culture Jamaica (ACJAM), sous le patronage du Consul Général de la Jamaïque à Toronto, M. George Ramocan, a accueilli le lancement du dernier livre de Mme Blackwood's dans les bureaux du Consulat Général de la Jamaïque à Toronto, Canada.

En le décrivant comme un travail d'amour, Mme Blackwood a indiqué à l'auditoire que le livre parle d'elle et de ses cousins " s'amusant, voyageant, visitant et vivant des expériences ensemble" au Ghana et au Togo. L'auteure, qui a publié plusieurs histoires courtes, a lu des extraits du livre et a pu transporter les auditeurs en Afrique.

S'exprimant lors du lancement, le Consul Général Ramocan a qualifié Mme Blackwood "de conteuse caribéenne authentique " et a loué son esprit courageux et vaillant à s'aventurer dans l'inconnu et à réaliser ses rêves.

"En lisant son livre, j'ai eu l'impression de faire le voyage avec elle et de vivre les moments de peur, d'aventure et de déception. Il ouvre tellement les yeux sur la mère patrie inconnue pour beaucoup de ses fils et filles dispersés, " a-t-il indiqué.

Le consul général a déclaré que la Caraïbe est remarquable pour la production de nombreux auteurs de rang, et le livre de Mme Blackwood's est un excellent ajout au vaste ensemble de la littérature produite par les auteurs des Caraïbes.

La Présidente de Arts and Culture Jamaica, Mme Girvan Cherita-Campbell, a fait remarquer qu'elle est au Canada seulement depuis une année, lorsque l'ouragan Gilbert en 1988 a "propulsé Yvonne Blackwood dans ma vie." Mme Campbell a prudemment approché la gestionnaire de banque pour demander de l'aide pour remettre en état sa maison et sa ferme dans les Blue Mountains, qui avait été dévastée par l'ouragan.

"Cette directrice de la banque c'était Yvonne Blackwood. Elle m'a aidé gracieusement; elle m'a fait me sentir spéciale et m'a impressionné par son professionnalisme et l'approche créative qu'elle a prise pour m'aider à résoudre mes problèmes", a-t-elle indiqué.

Mme Girvan-Campbell, qui a révélé qu'elle a vécu en Afrique occidentale dans les années 1970, a félicité l'auteure et a dit qu'à travers les descriptions dans le livre de la population, des paysages, des vues, des sons et des odeurs, elle a pu de retracer retracer ses pas et récréer l'émotion profonde qu'elle ressentait lorsqu'elle faisait la découverte de l'Afrique.

«Into Africa: The Return, nous aide à voir notre présent à travers notre passé», a déclaré la présidente de l'ACJAM au public.

"Les paragraphes relatifs à la mort, au deuil et à la neuvaine, les scènes décrivant les vendeurs ambulants qui bloquent les magasins légalement installés; les comptes rendus des différentes personnes qui les ont accompagnés en présentant leurs villes et villages aux visiteurs, tout cela me parle. Cela me rappelait la chaleur et l'hospitalité de chez nous dans les Caraïbes, nous qui sommes les descendants des cultures africaines, "a déclaré Mme Girvan-Campbell

Mme Sharon Crawford l'éditrice du livre, le M. John Allen Consul Général de Saint-Kitts-Et-Nevis, Mme Jenny Gumbs la Consul Générale de la Grenade, l'auteure Shadonna Richards; les représentants de la Jamaïque M Harrington Stephenson et Mme Paula Fennell ainsi que le conteur Phyllis Walker étaient également présent lors du lancement.
Arts and Culture Jamaica est une organisation qui se consacre à la présentation des arts et la culture uniques de la Jamaïque.

Traduit de l'Anglais par Guy Everard Mbarga http://guyzoducamer.afrikblog.com/

.