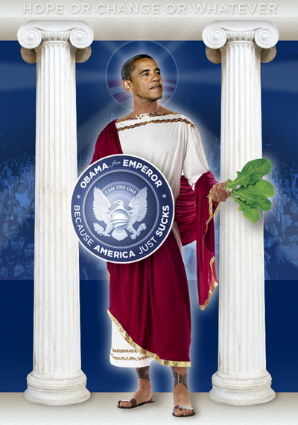 Pour dénigrer la trop grande propension de Barack Obama et de ses sympathisants à se présenter comme ceux qui viendront sauver l'Amérique ( We are the Ones, we've been waiting for, disent-ils)grâce à leur leader, la campagne du républicain John Mc Cain essaie, avec succès d'après les sondages, de dépeindre le sénateur de l'Illinois comme celui qui se prend pour Le Messie, l'Élu. Au-delà ce message de campagne à visée politique, le candidat démocrate à la présidentielle américaine pourrait pourtant véritablement devenir le sauveur de cette Amérique, en quelque sorte celui qui la délivrera de ses relations raciales malades, au moins en partie.

Libérateur d'abord des blancs qui en accordant la possibilité à un noir de présider à leur destin se délesteraient un peu de leur culpabilité ressentie vis-à-vis de ces AfroAméricains, exploités et maltraités durant l'esclavage, ségrégués avec les lois Jim Crow - notamment dans le sud - et encore grandement discriminés aujourd'hui de multiples points de vue. L'électorat blanc est d'ailleurs le seul à pouvoir vraiment donner la majorité à Barack Obama dans les urnes et son destin présidentiel dépend de lui.

Sauveur ensuite des noirs, qui pourraient obtenir un peu plus de place dans la société, espérer moins de discrimination, et en vouloir un peu moins aux blancs qui se sentent menacés depuis des siècles par leurs multiples revendications sociales, économiques et politiques.
Le libérateur enfin de ces combattants Afro-Américains des droits civils qui au contraire de Barack Obama ont toujours poursuivi un agenda principalement pour et par les noirs. Barack Obama président diviserait la poire en deux : les blancs obtiendraient un président noir qui ne menacerait pas leurs intérêts et symbole de relations raciales aux États-Unis améliorées, modernisées, pacifiées. Il les libérerait de leurs démons, de l'image de racistes invétérés qui leur colle à la peau tout en démontrant aux noirs et au reste du monde qu'ils ne sont pas si racistes et sans cœur.
Les Africains Américains auraient un des leurs à la tête du pays et seraient libérés de leurs propres démons qui poussent certains d'entre eux à en vouloir à ceux qu'ils considèrent comme frein à leurs libertés, à leur prospérité, à la bonne marche de leurs vies. Barack Obama leur permettra d'ajouter une image positive à leur peau, celle d'un noir président des États-Unis, capable de diriger la plus grande puissance actuelle du monde.
Les relations raciales aux États-Unis ont évolué en partant de l'esclavage, dans un sens où les conditions de vie des noirs se sont certes améliorées, mais n'ont jamais dans l'ensemble atteint l'égalité avec celles des blancs. On peut tout de même affirmer que davantage que par le passé, les raisons des inégalités persistantes dans ce pays sont de plus en plus sociales et de moins en moins raciales.
Ce passage de l'esclavage et de la ségrégation à la discrimination tout autant décriée que décriable et combattue ne s'est pas fait à travers le temps sans concession de part et d'autre. Les noirs ont par exemple obtenu l'abolition de l'esclavage, sans pour autant que justice, des fois si chère aux occidentaux, soit faite. Le combat pour les droits civils a connu de grandes avancées sans pour cela que les Afro-Américains se retrouvent socialement, économiquement ou encore politiquement égaux à leurs concitoyens blancs.
Si l'on considère que Barack Obama est dans la lignée des grands leaders et combattants politiques noirs qu'étaient ou que sont les Martin Luther King, Malcom X, Jesse Jackson ou encore Al Sharpton, on constate que là encore, il a fallu mettre beaucoup d'eau dans son vin.
Le discours et l'action politiques du sénateur de l'Illinois s'inscrivent plus sur le terrain social. Il veut autant améliorer les conditions de vie des Afro Américains que celles de la classe ouvrière blanche par exemple. Il s'agit là d'une différence fondamentale entre lui et ces prédécesseurs. Un peu comme si ces derniers estiment et ont estimé que seuls les noirs devaient voir progresser leur niveau social pour atteindre celui des blancs qui représente le meilleur.
Un élément crucial illustre bien cette tendance politique de Barack Obama lorsqu'on lui demande de se prononcer sur les réparations que des noirs américains réclament parce qu'ils estiment, à raison, que l'esclavage, la ségrégation et la discrimination représentent une injustice historique qui ne leur a jamais permit les mêmes chances qu'aux blancs. Il répond très subtilement et contrairement à ce qu'on a pu lire dans les médias occidentaux qui ont vite fait d'affirmer de manière triomphante qu'il était contre les réparations.
Il explique ainsi très clairement que "les meilleures réparations que l'on peut offrir ce sont des bonnes écoles dans les quartiers déshérités et des emplois pour les chômeurs" ("The best reparations we can provide are good schools in the inner city and jobs for people who are unemployed"). En fin politicien, expert en équilibrisme, il satisfait tout le monde.
Les AfroAméricains auraient des réparations, certes pas dans la forme que beaucoup pensent souhaiter et que la majorité des blancs semble ne pas vouloir, étant en quelque sorte opposés à des avantages accordés aux noirs parce qu'ils sont noirs, et ce malgré l'existence de l'Affirmative Action et du fait que beaucoup de blancs aux États-Unis ont toujours bénéficié de l'avantage de leur couleur de peau.
Justement concernant l'Affirmative Action qui bénéficie beaucoup aux noirs, Barack Obama sans s'y opposer en réclame une plus juste qui ne bénéficierait pas à ses filles par exemple issues d'une bonne famille, mais pourrait au contraire être appliquée pour un blanc qui vit dans des conditions sociales difficiles.
Le New York Times expliquait récemment dans un article que l'avènement du candidat démocrate annonçait la fin de l'action et de la philosophie politiques des leaders Afro-Américains telle qu'on les connait. L'auteur justifiait cela par le fait que son discours politique "racialement neutre" est la preuve de l'obsolescence de la politique telle qu'historiquement pratiquée par la majorité de ces leaders.
Pourtant, si Barack Obama est un politicien noir, son discours politique et sa cible politique comme indiqué plus haut ne cadrent en rien avec ceux des Martin Luther King, Malcom X, Jesse Jackson, Al Sharpton, Louis Farrakhan, les Black Panthers et toutes ces organisations politiques noires historiques.
On devrait par conséquent le classer dans la politique américaine traditionnelle, dominante, blanche, incarnée par les partis démocrates et républicains, deux partis auxquels se résume la démocratie américaine. Et c'est la raison pour laquelle il est adoubé principalement par les ténors de cette politique, très majoritairement blancs. En fin de compte, malgré le refrain du changement, aux États-Unis, un noir, politicien ou non reste classé, rangé avec les siens, parce qu'il est défini d'abord par sa couleur de peau.

L'Amérique sachant être politiquement correcte, et étant une terre de paradoxes inextricables, Barack Obama président sera pourtant comme un billet de loto gagnant /gagnant : il donnerait l'illusion à chaque camp que l'autre lui a fait la plus grande des concessions, et blancs et noirs se délesteront alors d'un fardeau, comme le pécheur qui se repentit.
Guy Everard Mbarga